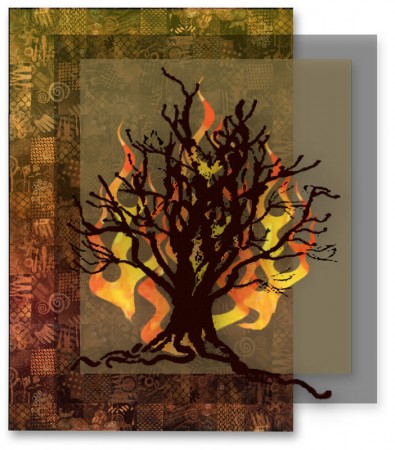 This design was inspired by the account in Exodus 3 of Moses' encounter with God in the burning bush. 
In a response to Moses' inquiry about how God wished to be known, God responds with a word that may be translated as "I will be who I will be."  For me, this suggests that God will not be limited by humankind's perceptions of who God was, is, or yet shall be.  Rather, God's identity will be determined by the endless possibilities of the divine will as it unfolds over time; humankind's quest is to discern how God is seeking to be known in our world.
This design, which was commissioned for the Community of Christ international headquarters, was executed in three layers.  The translucent layer featuring the bush form was executed on a digitized embroidering machine using the artist's digital design.  The background layer featured artist-discharged cottons combined with a variety of synthetic fabrics, which were embellished with improvisational machine stitching.
Save
Save