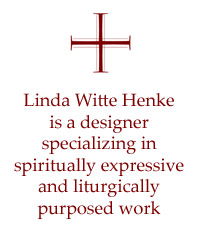 Linda Witte Henke combines surface-design techniques and digital-design processes to create art that is spiritually expressive and frequently purposed for liturgical use.
Linda's sources of inspiration include her faith, the sacred writings that ground her faith, and the reflections and insights that emerge on the course of her faith journey. Informed by academic degrees in journalism and theology, extensive studies in art and surface design, and experience as a parish pastor and published author, she employs a unique combination of gifts to give fresh expression to timeless themes and universal questions, frequently combining abstract imagery with recognizable references to invite spiritual, theological, emotional, and intellectual reflection.
In addition to the work Linda creates by way of an active commission schedule, she also creates limited work for exhibition in juried or invitational solo and group exhibitions in Europe, Asia, and North America. Images of her work are frequently published in books, magazines, and journals.
She welcomes inquiries and comments about her ministry in the arts.