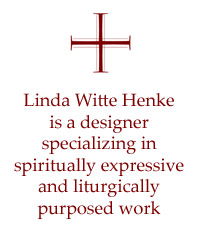 Linda Witte Henke is an artist/designer specializing in the creation of work for use in worship settings.
Linda's sources of inspiration include sacred texts, hymns, and the theological reflections and insights that emerge on the course of her own faith journey. Her designs are informed by academic degrees in journalism and theology, extensive studies in art and surface design, and experiences as a parish pastor and published author.
After many years creating commissioned projects for churches and religious agencies, Linda now focuses her energies on the creation of digital designs:
Linda has designed three LITURGICAL BANNER COLLECTIONS that she makes available as print-on-demand fabrics for purchasers to themselves finish into stunning banners. For more information, check out the BANNER COLLECTIONS tab on the navigation panel. Pay particular attention to the dramatic price reductions for the banner collections.
Linda designs collections of SEASONAL WORSHIP VISUALS that correlate with the Christian Liturgical Calendar. Formatted for a variety of uses (banners, bulletin covers, social media posts, projection slides, children's coloring sheets, etc.), she makes the collections available as editable files for faith communities to adapt to their particular contexts – all at no cost.
To keep apprised of these and other developments, visit the CONTACT page and sign up for Linda's periodic e-newsletter.