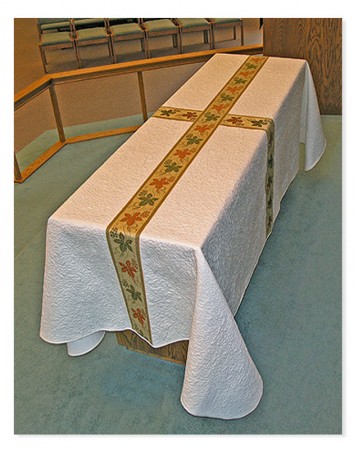 Very truly I tell you,  unless a grain of wheat falls into the earth and dies,
it remains just a single grain; but if it dies it bears much fruit.
Whoever serves me must follow me,  and where I am, there will my servant be also. 
Whoever serves me, the Father will honor. 
Inspired by Jesus' words in John 12, this funeral pall was commissioned by a rural congregation whose building is surrounded by wheat fields.  It was fashioned from ivory satin and embellished with a commercial tapestry braid that features grapes and wheat.  It was embellished with improvisational machine stitching.  The pall is placed over the casket as a reminder that the deceased is clothed in the righteousness of Christ and, in baptism, has been marked with the seal of Christ forever.
Save