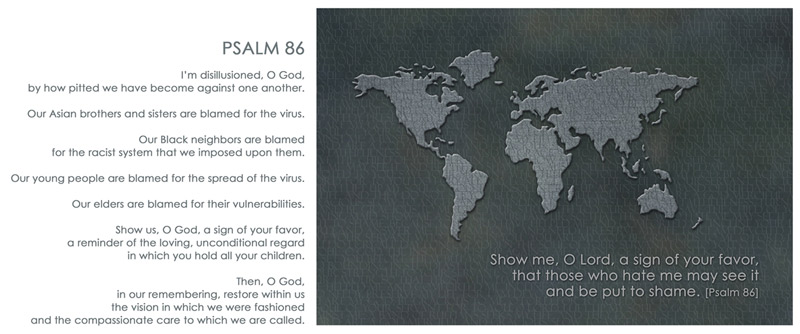 [18 inches wide by 12 inches high]
Show me, O Lord, a sign of your favor, that those who hate me may see it and be put to shame.  [Psalm 86]
 As the year 2020 unfolded, I was prompted to examine my beliefs about myself, about my neighbors, about the world around me, and even my understanding of God.  Although sometimes painful, those examinations reminded me that God's enduring presence and unfailing love surround us in every time and season.
In my own struggles, I was continually drawn to the biblical Psalms of Lament, where I found assurance that I am neither the first nor the last person to be brought to my knees by life's painful realities.  In these psalms, I found courage to entrust my rawest, most vulnerable, and most enraged self to God … permission to unleash my own cries of desperation … and confidence to submit my whole self to the faithful love of the One who accompanies me in every struggle.
This work is expressive of that experience.