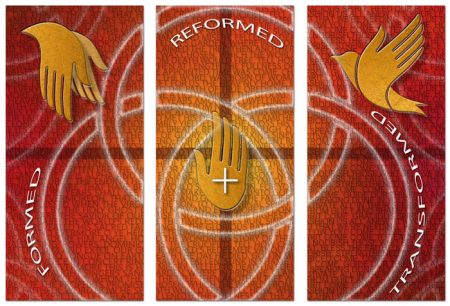 This digital design was created to support and enhance parish, judicatory, and church-wide observances of the 500th Anniversary of the Protestant Reformation.  
The design's vibrant red-orange-gold color scheme conveys a sense of God's ongoing activity within and among God's people.  Hymn texts in the background of each panel add texture and bear witness to God's work across the centuries and around the globe.  Three interlocking circles signal the Holy Trinity as the lens for reflecting upon God's love and faithfulness throughout the ages, reminding us that we are FORMED in the image of God, RE+FORMED through the cross of Christ, and TRANSFORMED by the power of the Spirit.
The design was executed as stretched canvases and as commercially printed fabrics used to create banners in a variety of sizes. The design was also used in high-resolution digital formats for use as projection graphics, illustrations on websites and social media, and in print applications. 
Save
Save
Save