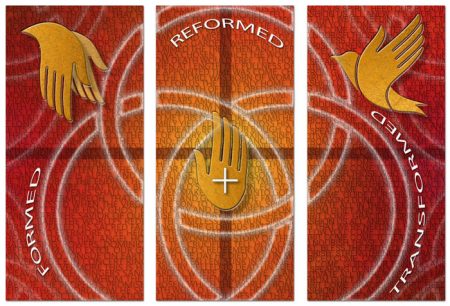 FORMED, RE+FORMED, TRANSFORMED
I created this design to enrich observances of the 500th Anniversary of the Protestant Reformation in parish, judicatory, and church-wide settings.
With a nod to the tradition, three interlocking circles signal the Holy Trinity as the lens for reflecting upon God's love and faithfulness throughout the ages, reminding us that we are created in the image of God, reformed through the cross of Jesus Christ, and transformed by the power of the Spirit. 
The design is well-suited for use as commercially printed banners, available in a fixed installation proportion but at a scale customized to each particular context.  The design is also available in high-resolution digital formats for use as projection graphics, illustrations on websites and social media, and in print applications. 
I invite you to be in touch to request pricing for the banners in a specific dimension, as well as image-license information for use of the design in your electronic and print applications.  Click HERE or additional information, as well as for "idea starters" to prompt your creative use of the design.
Save
Save