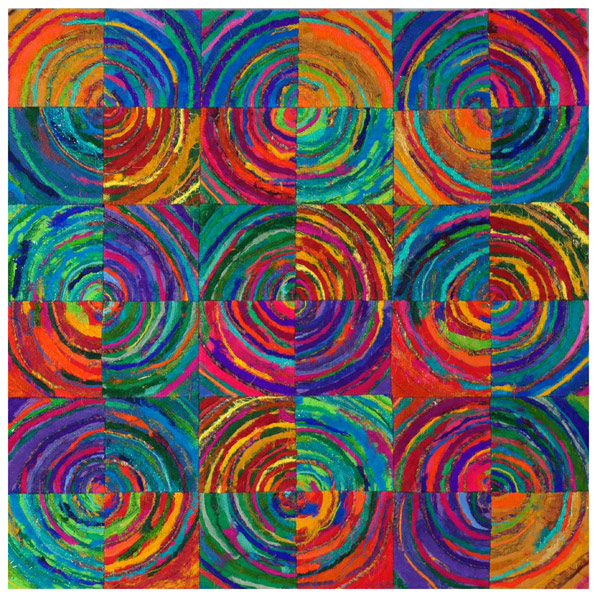 For where two or three are gathered in my name, I am there among them.  [Matthew 18:20, NRSV]
While the "goods" produced by the Ziyada enterprise are significant, the "good" being engendered within this context is even more impressive:  the sense of community that has developed among the workers.  Although the workers represent several of the world's major faith traditions – Hinduism, Buddhism, Islam, and Christianity – the depth of the workers' mutual respect and shared kinship has paved the way to rich friendships and shared family celebrations.
Waste from the floors of sari manufacturing facilities, silk fibers harvested by Ziyada workers from that waste, and yarn spun by Ziyada workers from those fibers were joined with Eco-Fi felt (made from recycled plastic bottles) to create circles, a universal symbol of wholeness and community.  The circles were then quartered and reassembled to create a new collection of diverse and energetic circles.  The cruciform juncture of each reconstructed circle bears witness to Christ's presence in the midst of the Ziyada community.
This work was created for Making Good[s], an invitational, traveling exhibition co-sponsored by Asbury Seminary and Christians in the Visual Arts (CIVA).
Save